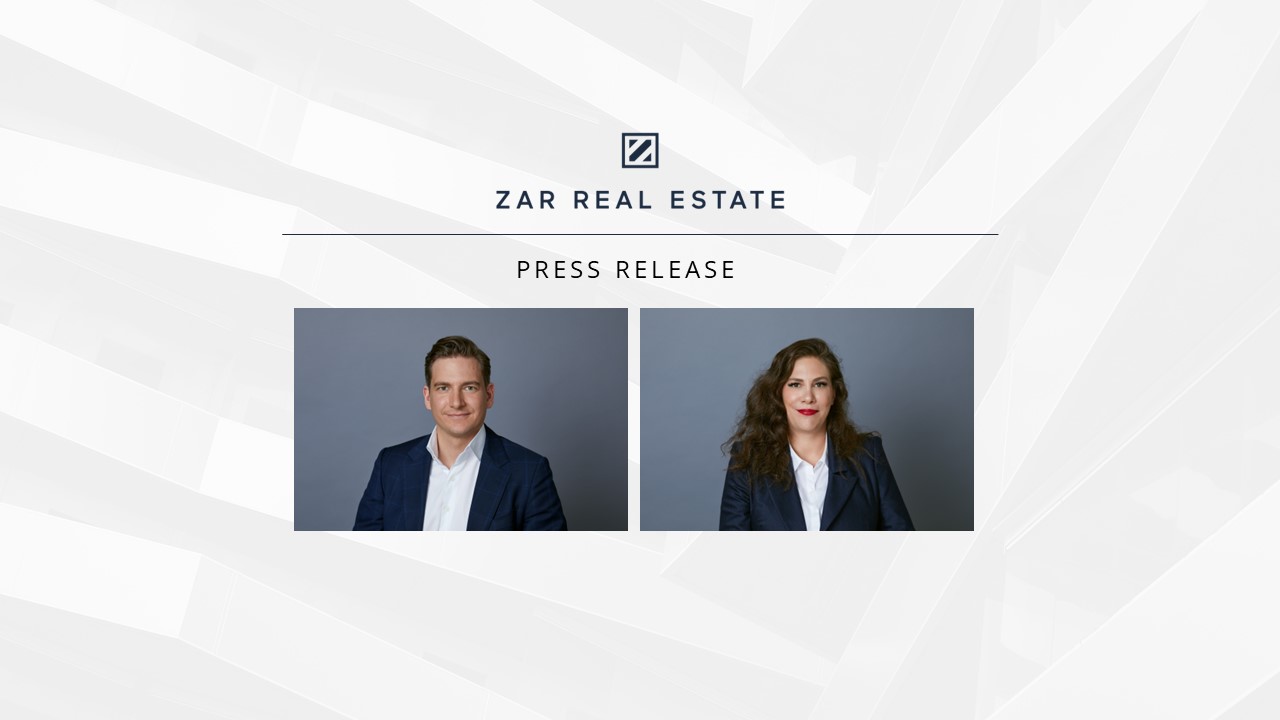 Berlin, June 30, 2022 – ZAR Real Estate Holding has established a new location with an office near Kurfürstendamm in Berlin. As of July 1, 2022, Arne Siemens is branch manager and will be responsible for the development of the metropolitan region in will be responsible for the development of the metropolitan region in the future. Kathrin Schöning has already started as Head of Acquisition in the Berlin office on June 15, 2022.
"From the location expansion in Berlin, we expect a sustainable and greater participation in one of the most dynamic real estate markets in this country. At the same time, we are thereby continuing our process of expansion. In addition to locations in Munich and Düsseldorf, we are now also represented in the German capital. Due to the large number of projects, we are increasing our team and are very pleased to welcome Mr. Siemens and Ms. Schöning as Branch Manager and Head of Acquisition in our new Berlin office in summer 2022," says Daniel Argyrakis, CFO and Managing Director of ZAR Real Estate.
In his role as Branch Manager, Arne Siemens will focus on ongoing project developments in Berlin/Brandenburg region, as well as the management and further setup of the Berlin office. Previously, he was responsible for the implementation of projects in all development phases at QUEST Investment Partners, as well as for the establishment and development of the Berlin office. "Arne Siemens has a strong track record of experience and a broad network within the real estate industry. As a dynamic and growing company, we are pleased to have gained Arne Siemens, a proven expert in the development of building law and the realization of complex construction projects, and to increase our presence in the Berlin market significantly," says Martin Hofmann, CDO and Managing Director of ZAR Real Estate. Among the projects he has managed in the past are project "Alter Wall" in Hamburg, Sellerstrasse 31 in Berlin and "Port Faraday", also in Berlin – each major projects with an investment volume in the clear triple-digit million range.
"ZAR continues on a very exciting expansion course and I am looking forward to joining the team to push the development of further projects and also the company forward and to contribute my many years of expertise," Arne Siemens emphasizes.
Almost simultaneously, Kathrin Schöning has joined the Berlin office as Head of Acquisition with a nationwide function. The business economist has extensive market knowledge, strong industry expertise and a large network thanks to her many years of experience in real estate acquisition. Kathrin Schöning previously worked for five years at Fundamenta Group Deutschland AG, where she was most recently responsible for acquisitions as Acquisition Director and where she independently built up the German sales network. In total, Kathrin Schöning can look back on more than 140 individual transactions with a total volume of over 1.5 billion euros.
"I am looking forward to contribute to ZAR's future growth and to actively support the company with my network", emphasizes Kathrin Schöning.